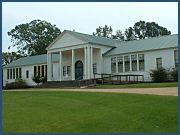 Welcome to Fayette County, Alabama - the South's Best Kept Secret!

Whether you are looking for a place to locate a business, a place to live, or simply a place to enjoy good people and fellowship, Fayette County is the place to be. Our climate, both weather and social, is ideal for day to day living, raising children, and retirement.

The Fayette Area is beautiful and a delight to experience. We enjoy an abundance of lakes and ponds, both natural and man-made. Several rivers flow through our area, creating environments teeming with wildlife.


Natural forests and farmlands surround our towns, providing a quality of life rarely found in these days of urban sprawl.

Quality of life is our most important asset and one in which we delight in sharing. Success is not only a word, but a philosophy in our industries, government, schools, local businesses, and our social lives.

Accept our invitation to explore Fayette. Enjoy our weather, our hunting and fishing, our culture and our hospitality. You owe it to yourself.
AERN: Alabama Entrepreneurial Research Network
AERN connects entrepreneurs to resources. If you are planning on starting or expanding your own business, the AERN resource site in the Fayette Chamber of Commerce office (downstairs at City Hall) is the place to begin. The resources include information on building a business plan, industry and economic profiles of the county, useful internet sites, checklists one needs to have when opening a business, and personal assistance.

Contact the Fayette Area Chamber at:
102 2nd Ave., P.O. Box 247
Fayette, AL 35555
205-932-4587
Email: fcoc@cyberjoes.com